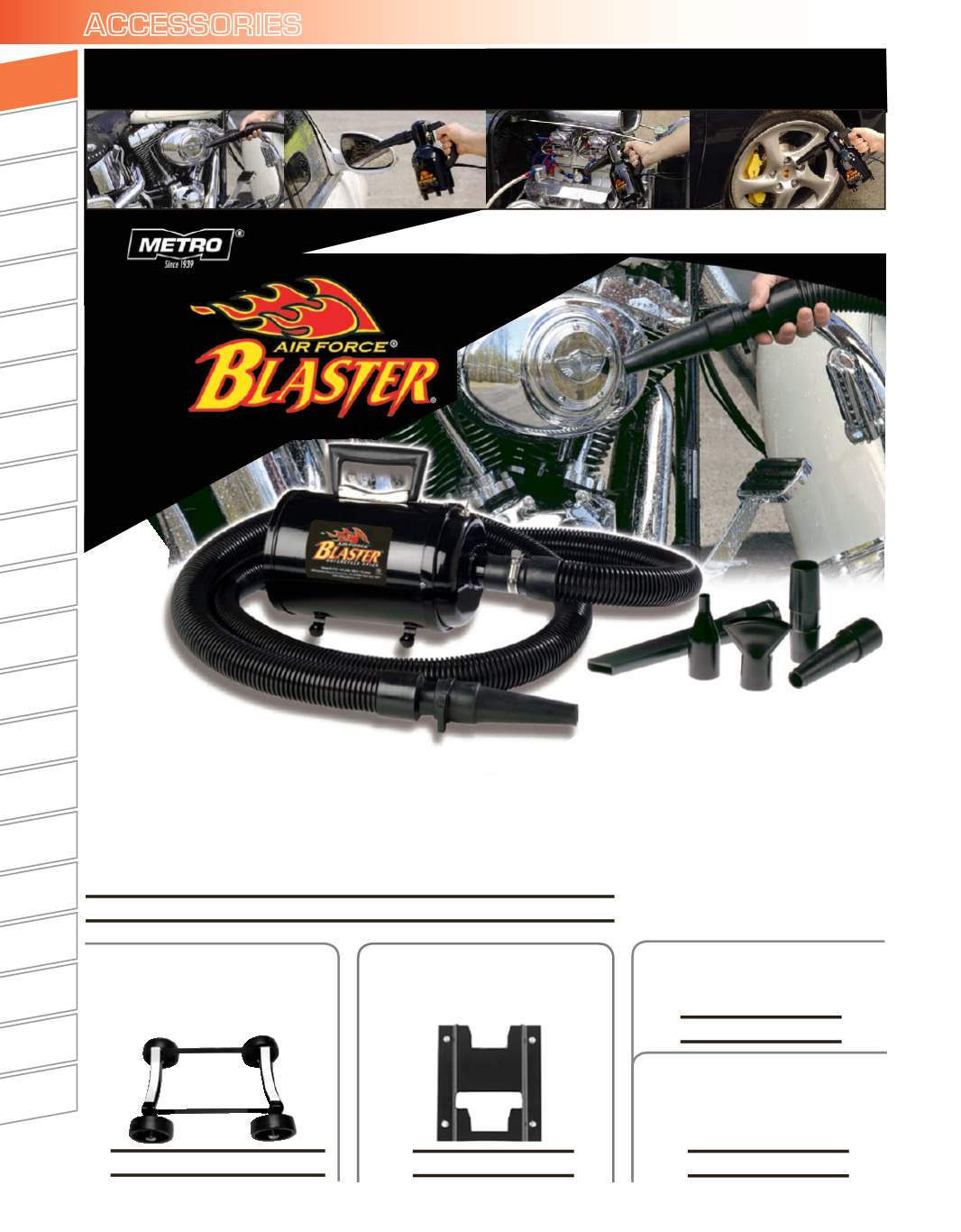 The Fastest Way to Dry Your Bike
Metro's classic Air Force® Blaster® has taken the motorcycle industry by storm, quickly earning a
reputation among professionals and bikers alike as the most powerful and efficient dryer available.
With a body of steel and powerful 4.0 Peak Horsepower motor, the Blaster® produces 29,250 ft./
min. of clean, dry, warm, filtered air and blasts water off off bikes in seconds cutting drying time
by 80%! The Blaster® leaves no spots or oily residue and completely eliminates "after-streaking"
, those annoying streaks that appear out of nowhere when you start riding because of hidden
water.With the Blaster®, water has no place to hide
! The Blaster® is also safer (great for older
bikes and expensive customs) and more efficient than compressed air or leaf blowers.
• Cuts drying time by 80%
• Blows warm, dry, clean, filtered air
• Eliminates "after streaking"
• Water has no place to hide
• Better/safer than compressed air or
• Rugged all-steel construction
• Lightweight and portable
• Heavy duty neoprene blower nozzle
plus 5 interchangeable attachments
• 10 ft x 1.5" flexible commercial strength
AIR FORCE
®
BLASTER
®
962500 289.50 ea
SNAP ON VELCRO 4
WHEEL DOLLY
962508 28.50 set of 4
WALL/TABLE
BRACKET
962507 26.50 ea
WALL/TABLE
BRACKET WITH 10'
EXTENSION HOSE KIT
962506 64.50 ea
FOAM FILTERS
962504 6.00 pkg