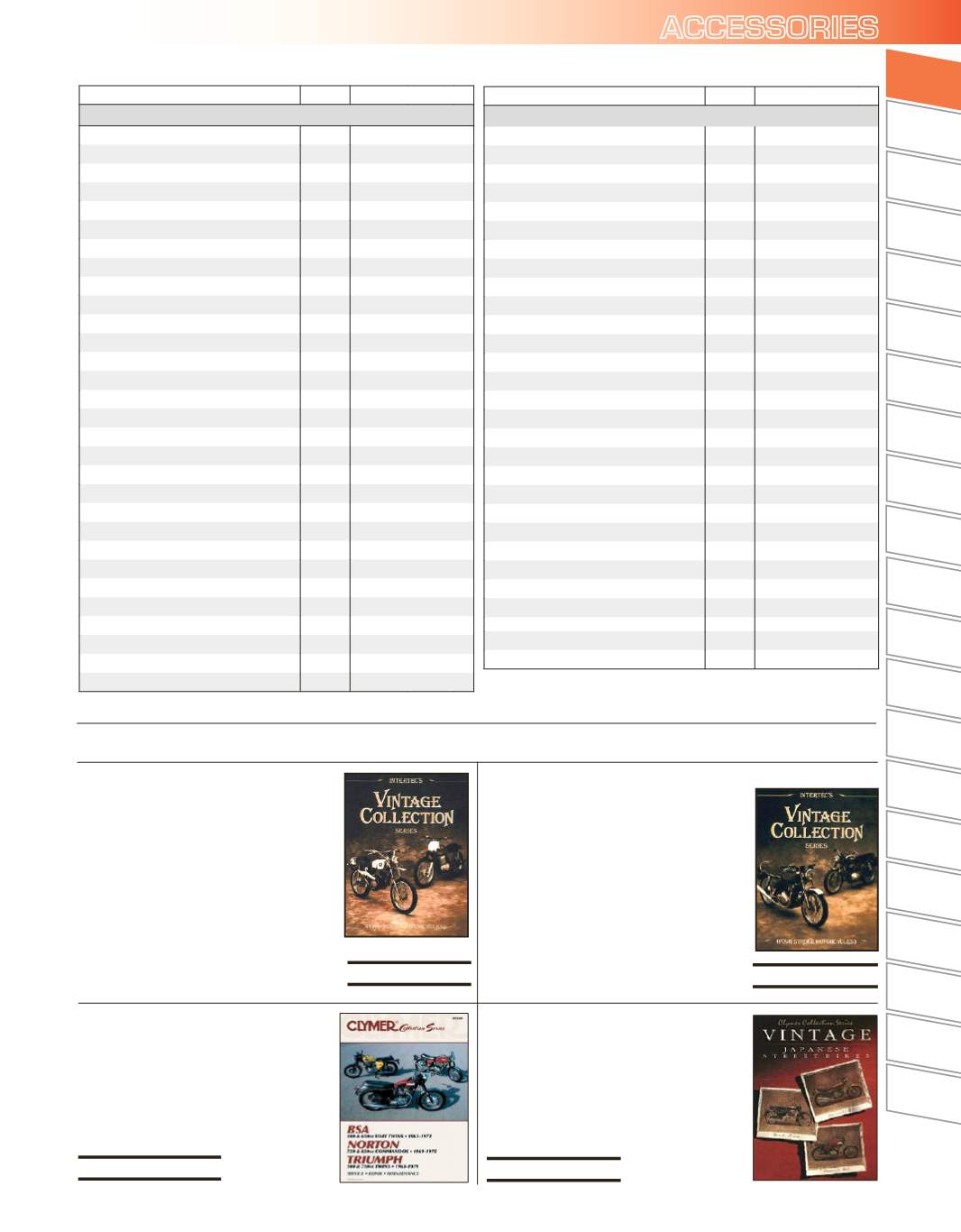 2016 STREET CATALOG
This Clymer Collection Series repair manual
is for vintage Japanese bikes like the Honda
CA72/77, CL72/77, CS72/77; also includes
Kawasaki 250- 750cc Triples and Kawasaki
900 & 1000cc Fours, Honda 250 & 305cc
Twins 1959-1969, Kawasaki 250-750cc Triples
1969-1979, Kawasaki 900 & 1000cc Fours
THE CLYMER VINTAGE COLLECTION SERIES
The Clymer Vintage Collection Series Two-
Stroke Motorcycles (VCS-2) manual contains
repair and maintenance information for
many single and multi-cylinder motorcycles
with engine displacements of more than
85cc-covering models produced in the early
60's through the mid-70's. The condensed
service procedures, specifications, exploded
views and photographs guide the reader
through adjustment and repair. Some of
the models covered are Allstate, Benelli,
Bridgestone, Broncco, BSA, Bultaco, Ducati,
Garelli, Hodaka, Honda, Kawasaki, Maico,
Montesa, Moto Beta, Ossa, Puch, Rex, Sachs,
Suzuki, Villiers, White, Yamaha
The Vintage Collection Series, Four-Stroke
Motorcycles (VCS-4) contains repair and
maintenance information for most single
and multi-cylinder motorcycles with engine
displacements of more than 85cc-covering
models produced in the early 60's through the
mid-70's. The condensed service procedures,
specifications, exploded views and photographs
guide the reader through adjustment and repair.
Some of the models covered are Benelli, BMW,
BSA, Ducati, Gilera, Harley-Davidson, Honda,
Kawasaki, Moto Guzzi, Norton, Royal Enfield,
Triumph, Velocette, Yamaha
This Clymer Collection Series repair manual is
for the BSA, 500 & 650cc Unit Twins; Norton,
750 & 850cc Commandos and Triumph, 500-
750cc Twins. It covers the BSA, 500 & 650cc
Unit Twins; Norton, 750 & 850cc Commandos
and Triumph, 500-750cc Twins models.
274111 36.95
274112 36.95
274113 36.95
274065 36.95
CLYMER MANUALS continued
MAKE/MODEL
YEAR
PART #
SUZUKI
274006 36.95
274087 36.95
274089 36.95
274090 36.95
274091 36.95
274093 36.95
274094 36.95
274095 36.95
274096 36.95
274097 36.95
274098 36.95
274101 36.95
274102 36.95
274103 36.95
274104 36.95
274105 36.95
274107 36.95
274228 36.95
274228 36.95
274229 36.95
VS700-800 Intruder/Boulevard S50 85-09
274230 36.95
462476 36.95
274108 36.95
1500 Intruder/Boulevard C90
274088 36.95
274100 36.95
274099 36.95
274099 36.95
274234 36.95
VS1400 Intruder/Boulevard S83
274109 36.95
274092 36.95
MAKE/MODEL
YEAR
PART #
YAMAHA
274225 49.95
274226 36.95
462391 36.95
462391 36.95
462406 36.95
274138 36.95
274136 36.95
274137 36.95
274114 36.95
274129 36.95
274221 36.95
274115 36.95
274116 36.95
274117 36.95
274118 36.95
274119 36.95
274120 36.95
274121 36.95
274123 36.95
274124 36.95
274125 36.95
274126 36.95
274134 36.95
274141 36.95
274142 36.95
274145 36.95
274065 36.95
Vintage British Street Bikes
274113 36.95